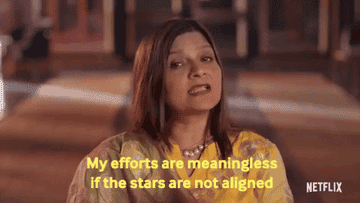 By now, you've probably heard about Netflix's controversial but still widely watched reality show, Indian Matchmaking. The series follows Sima Taparia, a top Mumbai matchmaker as she tries to find lifelong partners for her clients in both India and the United States. 
She says that there are many factors when deciding who's going to make a good match for who, but there's one piece that plays a significant part during the matchmaking process that may surprise you — and that's how well the match's horoscopes must align. 
Sima herself when asked by Vogue why astrology is such a critical part of her matchmaking services shares that "Astrology plays a similar role to religion in India —it gives us order in a chaotic world. There are definitely people who go too far with it and take it didactically, but by and large, it's more of a guide to understanding which direction the universe is taking you so that you can work with it to achieve your personal goal."
This emphasis on horoscopes and matching of stars for marriage is known as Kundali Matching. It is a horoscopes compatibility test that is considered vital for a happy and successful marriage. 

Don't think Sima's entourage of panditjis are simply matching Cancers with  Leos though, Kundali matching does not follow Western birth charts but is instead based on Vedic astrology and the moon signs are more emphasized than the sun signs. 
According to Nitish Pawa of Slate magazine, there are weddings whose dates are decided by how best the stars are aligned, how auspicious these days would be for the marriage. Basically, Kundali matching is taken very seriously in India!  
Whether a telltale sign of a successful marriage or not, astrology matching is an extremely compelling part of figuring out whether or not a romantic partner could be good for you in the long run. It's kind of nice thinking that your love could be written out in the stars. Right?